Our community midwifery teams offer a full range of antenatal services, parent education, aquanatal, birthing at home and postnatal care.
You can either be referred by your GP or self-refer for maternity care. Following this the community midwife will usually be the first person you meet along your pregnancy journey. She will complete your booking appointment taking all your history and planning your personalised care pathway.
Apart from your scans – which take place at the hospital – the remainder of your antenatal care will be with either the community midwife or shared with the obstetrician at the hospital according to your needs.
Community midwife antenatal clinics are held in GP surgeries or health centres and children's centres. Each GP has an allocated midwife to try to ensure continuity during your pregnancy and postnatal period.
The community midwifery service also provides a 24-hour on call service to support women who wish to have their baby at home. Please speak to your community midwife to discuss this further.
There are two teams of community midwives who between them cover both West Lancashire and Sefton. They can be reached on the following numbers usually between 4 pm and 5 pm every day (you can leave a message outside these hours):
Ormskirk 01695 656668
Southport 01704 704699
Screening

Screening tests form an important part of both antenatal care and care of the new-born baby. They are used to detect women or babies who may be at a higher chance of being affected by a specific health problem.

Most women and babies will have normal screening results meaning they are low risk of having the condition they were screened for. However, some will receive higher risk results and will be offered further tests which will provide more conclusive information either confirming the condition is present, or as in many cases, that it is not.

The screening tests may involve a blood test, an ultrasound scan, or in the case of new-born screening, a top-to-toe examination, a hearing assessment, or again a blood test.

All midwives are trained to inform and counsel women about the tests they will be offered, both for themselves and their babies, and these discussions begin at the first consultation with the midwife, which is known as the booking appointment.

Further information is also available from the National Screening Programme website, or from the booklet Screening Tests for You and Your Baby which is usually sent out prior to your booking consultation.

The screening co-ordinator is also available to counsel any parents who have specific concerns regarding any aspect of antenatal or new-born screening. The screening co-ordinator is a specialist midwife who has undergone extensive training, and co-ordinates all the screening programmes, follows up any positive screen or high chance results, and ensures that all those eligible are offered screening in a timely manner and have a conclusive result.

There are currently four antenatal programmes:

Infectious diseases – hepatitis B, HIV, syphilis
Sickle cell disease and thalassaemia
Screening for Down's, Edward's and Pataus' syndromes
Fetal anomaly scan at 20 weeks to check baby's anatomy

There are three new-born programmes which are:-

Physical examination (top-to-toe check) done within the first 72 hours after birth and then repeated between six and eight weeks
Hearing assessment also done within 72 hours of birth
Blood test which is done at five days of age which tests for several conditions such as cystic fibrosis, sickle cell disease, thyroid disease, and a series of metabolic disorders

For further information, please see your copy of The Pregnancy Information Book, which can be found towards the back of your yellow hand-held notes, or contact the screening co-ordinator Jayne Parkinson

on 01695 656379656949, or soh-tr.ormskirkanc@nhs.net.

Post-natal care

After your baby is born, the midwife will visit you the day after your leave hospital to check both you and your baby. The reason for and frequency of visits will be discussed with you at the first visit but please be aware that the midwife does not visit every day. She will leave contact numbers for advice 24 hours a day.
Labour concerns
I'm concerned about my baby's health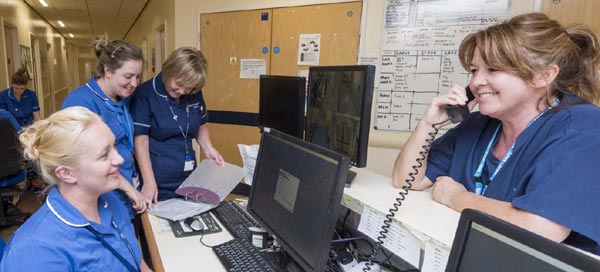 During your pregnancy you may experience concerns which require you to seek the advice of a midwife outside of your planned clinic appointments.
Our triage service provides dedicated midwives 24 hours per day to provide advice and support. The telephone number to call to access the triage service is 01695 656604.
When you phone you will be asked questions about your pregnancy and the reasons for your call, it may be helpful to have your hand held records available at this time.
Once the triage midwife has all the relevant information she will advise you of what you need to do next. This could be:
Advice and reassurance that all appears well at this time and you do not need to be physically assessed. She may also make some recommendations of actions you can take yourself and also advise you to call again if you remain concerned
Advise you to attend the triage assessment area within a specified time frame
Advise you to attend either delivery suite or the triage area for immediate assessment
Advise you that you need emergency admission to delivery suite and that she will contact the emergency services for a paramedic ambulance to attend your location
Clinics led by doctors for your baby
Antenatal clinics

We look after pregnant women from Southport and Ormskirk and surrounding areas including Formby and Crosby, Knowsley, Kirkby, Maghull, St Helens and Rainford, Hesketh Bank and Tarleton, Upholland, Skelmersdale and Wigan.

General clinics are held at both Southport and Ormskirk hospitals.

Fetal medicine clinic

The clinic is held twice a week and comprises a multidisciplinary team of a consultant obstetrician, senior midwife and ultrasonographer. Women with complex fetal problems will be seen in this clinic.

For instance, there may be a maternal illness that might have a bearing on the pregnancy, there may be a family history or a previous history of a fetal problem or there may be occasions when a structural fetal abnormality has been picked up on routine scanning that needs confirmation and subsequent management planning.

This clinic is also responsible for caring for women with a high risk for Down's syndrome or other chromosome defects.

Combined screening incorporating a nuchal translucency scan and a first trimester blood test, amniocentesis and chorionic villus sampling are offered locally in this clinic.

If necessary we have a partnership with the specialist Liverpool Women's Hospital where extra advice can be sought.

Joint medical disorders clinic

The clinic is held once a week and comprises a dedicated team of two consultant obstetricians, two consultant physicians, diabetes specialist nurses, diabetes specialist midwives and dieticians.

Women with existing medical disorders or those with a medical problem that occurs during pregnancy, are seen within this clinic.

The most frequent condition seen in this clinic is diabetes, either pre-existing or gestational, which is when it occurs for the first time in pregnancy. Other conditions include high blood pressure, asthma, epilepsy, chronic bowel conditions or heart problems, but there are many others too.

The aim of the clinic is to optimise pre-existing medical problems before pregnancy, to monitor them during pregnancy and ensure a healthy mother and baby at the conclusion of the pregnancy.

Women may be seen for follow up postnatally and provision for ongoing medical care arranged.
Other specialist clinics. These may occur alongside general clinics and include mental health, vaginal birth after Caesarean section, multiple pregnancy and postnatal perineal care.