The Care Certificate
Upon starting your new position as a Health Care Assistant at Mersey and West Lancashire Teaching Hospitals NHS Trust, you will be automatically signed up to complete the Care Certificate.
If you have completed the qualification before, the Trust will require a copy of your certificate.
The Care Certificate recognises 15 standards that all health and social care workers must comply with whilst working within our Trust.
Healthcare Support Worker Code of Conduct
You can find out more by watching our video and viewing the pathway below: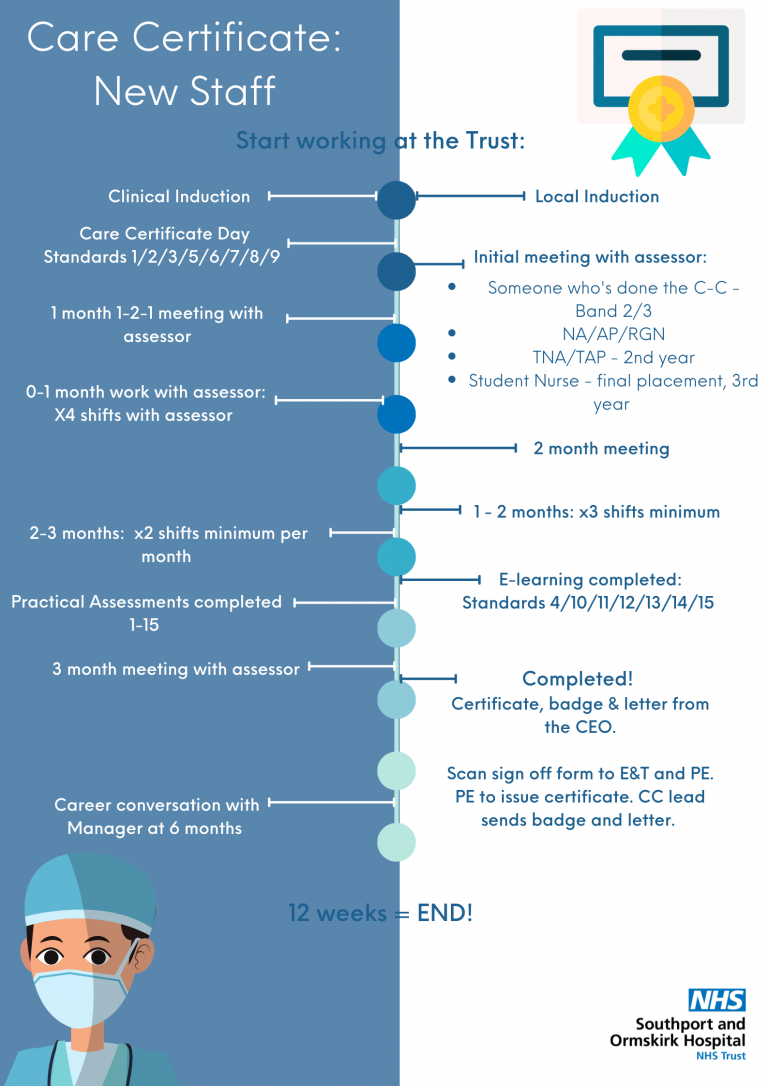 How long does the Care Certificate take?
You will complete the Care Certificate within 12 weeks.
How will I achieve the Care Certificate qualification?
This will be achieved by attending a workshop session. The workshops include:
Games
Videos
Professional discussions
Practical activities
Career conversations
Presentations
You will then complete a workbook which will cover the 15 different standards, including practical and theoretical work. Throughout this time you will work alongside an experienced assessor who will support you whilst you complete your qualification.
Upon completion of the Care Certificate you will receive a badge and certificate as well as a letter from the Chief Executive, Trish Armstrong-Child.
What are my next steps after completing the Care Certificate qualification?
On completion of the care certificate, you may want to consider further learning to enhance your knowledge and skills.
The following courses or programmes could be of interest:
Maths and English
Digital Skills
Role Specific e-learning via ESR
Edward Jenner Leadership Programme
Healthcare Support Worker Apprenticeship*
Senior Healthcare Support Worker Apprenticeship*
Trainee Nursing Associate Apprenticeship**
*Line Manager Approval Required
**Subject to recruitment
You may also be interested in Leadership and Management Development opportunities.
Find out more about apprenticeships and E-learning or contact Education and Training, ext 6214.
What have people got to say about the Care Certificate qualification?
Read some of the feedback about the Care Certificate here