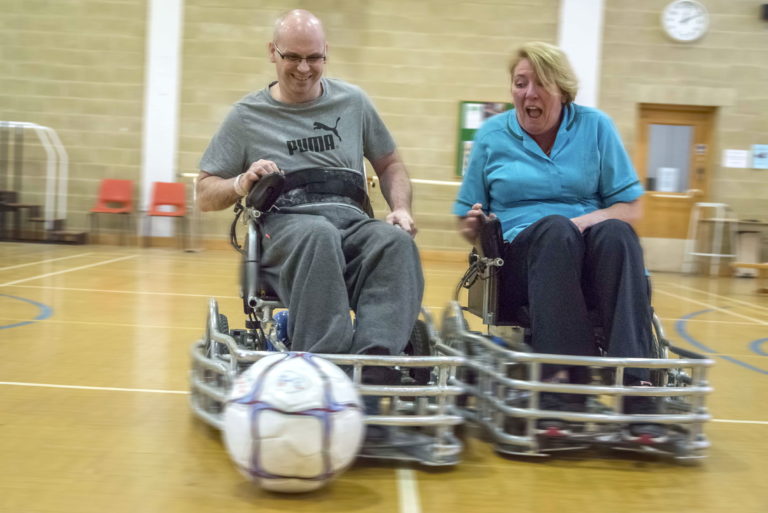 The North West Regional Spinal Injuries Centre offers a comprehensive, individually-tailored and family-oriented approach to spinal cord injury rehabilitation.
We benefit from having highly specialised and experienced staff in all disciplines, state-of-the-art facilities and equipment, proven treatment approaches, experience of supporting a large group of people with similar injuries, and a positive and caring attitude.
The team is committed to maximising independence regardless of level of spinal cord injury, and provide a supportive, friendly community designed to maintain hope and possibilities for the future.
Patients, families and other clinicians from across the world recognise and praise the quality of care we provide.
Rehabilitation starts on admission. We have 33 beds allocated for patients undergoing rehabilitation.
Once the patient's clinical condition has stabilised and mobilisation in a wheelchair has commenced, a formal rehabilitation programme will be agreed.
The programme will be formulated between the medical, nursing, physiotherapy, occupational therapy staff and the individual patient. It will focus on all aspects of daily living needs.
We provide access to a hydrotherapy pool, individualised physical therapy regimes and comprehensive support with reintegration into the community. Where appropriate and following assessment, patients can also be assisted with upright mobility using the latest technological equipment.
Once discharged, patients are invited back for review to meet their ongoing spinal injury related needs. Registered patients and their families can contact staff at any time for advice.
General advice or support: 01704 704333(office hours 9am to 5pm)
Routine or non-urgent nursing or medical advice 01704 704345 (24 hours)
Appointments and general inquiries 01704 704333 (office hours 9am to 5pm)
We also, where appropriate, readmit people for short "top-up" rehabilitation. If circumstances or abilities change, people can be readmitted and activities of daily living and independence reviewed.